Celebrating an Inspirational Volunteer for Volunteers' Week
Posted on
To celebrate Volunteers' week 2019, AVA is delighted to highlight an inspirational volunteer who has dedicated over 40 years of volunteering to the Balmedie community – Margaret Murison.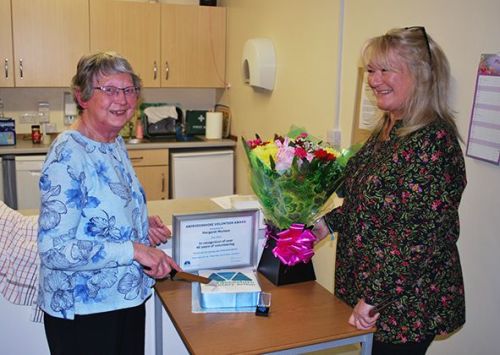 Margaret is an amazing lady who has volunteered for well over 40 years in the community because she said it is in her nature to help. Margaret was honoured as an outstanding volunteer in May with a presentation at The Friendship Club within Eigie House in Balmedie, where Margaret volunteers.
Well-wishers, friends and family all wanted to be in on the surprise presentation for Margaret – but once word sneaked out the lounge was soon filled to capacity as everyone descended on Eigie House to see Margaret receive her award. The event was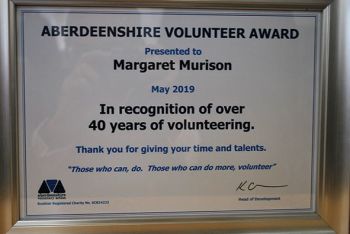 organised by Rosie Nicol from Belhelvie Community Trust, who spoke about her dedication to some special projects in the district, including The Beach Wheelchairs and The Sand Bothy. Rosie had organised the event with Jess Petrie who is responsible for the community newsletter, The Belhelvie Banter.
Margaret used to work in the bank for many years so generally gets asked to deal with many of the financial elements of the organisations she helps. She is also an invaluable source of expertise on family history locally, enjoys her garden and volunteering with the Church which is very close to her heart.
AVA Development Officer, Lorna Sandison said "I am delighted to be included in on-going and new projects in the Balmedie area as it is such a motivated and connected community where lessons can be learned as to how communities should indeed interact. Huge congratulations to Margaret who has contributed so much to the area – she is an inspiration to many".

---
If want to find out more about volunteering opportunities, or get some support with your organisations volunteers - contact our Development Officer Lorna Sandison on 07964036605, email: volunteering@avashire.org.uk You can also search for volunteering opportunities on the AVA website here.