Volunteering and fundraising – AVA staff shout out!
Posted on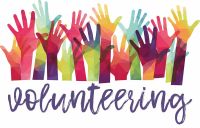 by Lindsay Allardyce

Many people find themselves volunteering at some point in their lives. Sometimes folk get involved without even thinking about the fact that they are volunteering - they're just doing something that needs done and get on with it. Sometimes it's a very deliberate decision to commit time to a cause or a project by helping out or fundraising. Often, it's a way of giving back to a charity that means something personal to the volunteer – a way of saying thank you for being there when you were needed and helping to make sure they are there for others in the future.
Donating your time is hugely valuable and shouldn't be underestimated. It's only recently, having worked for AVA and the third sector for 14 years that I have realised that most of my colleagues are not only working in the Third Sector but they are all quietly getting on with various volunteering and fundraising activities in their spare time too. Does working in the third sector make you more likely to volunteer your time? Maybe. It's a very inspiring place to work – and you certainly become more aware of the huge amount of work that is going on in communities every day. But no, it's not just a Third Sector thing. If you ask friends, family or colleagues whether they volunteer, or have done in the past – I'm sure most of them have in one form or another and in many different ways. Maybe we just don't shout about it enough!
So, in the spirit of celebrating Volunteers' Week 2018, I'm going to use this blog to shout about the volunteering work of our own staff at AVA.
AVA staff are currently involved with various long-term and one-off volunteering roles as well as getting in on some fundraising projects too. Many have dipped in and out of volunteering roles as their lives have changed because of work, kids, life, community needs etc. Here are just some of their roles at the moment:
Volunteer counsellor for 10 years

2 Therapets

Helping to arrange local hanging baskets and flower tubs in Deeside

Volunteering with Tarland Development groups seed and swap sale

Organising Cromar Brownies and Guides events.

Volunteering with the Stonehaven Duke of Edinburgh group, supporting young people through the various parts of the award - in particular, supervising overnight expeditions in the hills.

Fraserburgh Academy parent council volunteer – fundraising and events organisation

Volunteering at Tarland Community Housing

Turriff and District Pipe Band fundraising events ie. coffee mornings, soup and sweets

Organising fundraising events for Burnett school of dance in Fraserburgh

Fundraising through public art for Maggie's centres

Running in events to fundraise for Kayleigh's Wee Stars/Cancer Research/Friends of Anchor and Alzheimer Scotland

Volunteering at the Strawberry Fair in Insch every year

Volunteering at Tarland food & music festival

Volunteering at a weekly arts and crafts group

Beach cleans
So, a big shout out to every single person who volunteers – let's talk about it more, you might inspire others to get involved! Visit our volunteering opportunities website page and if you volunteer already and would like to write a blog about it, please get in touch with Lorna at: vounteering@avashire.org.uk