A Day Connecting, Supporting & Sharing in Inverurie
Posted on

by Sharon Francis,
AVA Development Officer,
specialising in Supporting Independent Living
The sun was shining on the toon of Inverurie awaiting Aimi, Heather, and Sharon to spend a day there connecting, sharing and knowledge building with some of our fabulous 3rd sector organisations.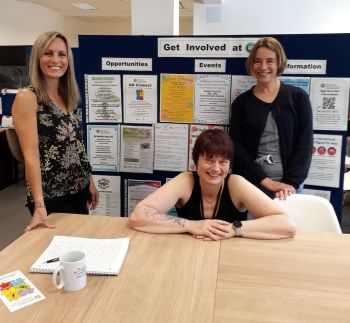 Aimi is our Hospital Homecoming Co-Ordinator; Heather is our Development Officer in Mental Health and Wellbeing and I'm Sharon, a Development Officer in Supporting Independent Living.
Grampian Opportunities was our first port of call where we met Lynn, one of the Coordinators, with a cuppa in hand we chatted, shared and laughed about all things Grampian Opportunities and Aberdeenshire Voluntary Action.
Let me share some of the fantastic work Grampian Opportunities undertakes to offer opportunities to people living within Aberdeenshire. With an aim to tackle loss, isolation and loneliness and encourage people to explore options and choices available to them to achieve what is important to them. From an information hub offering advice on welfare, benefits and finances to IT buddies where skills on mobile telephones or computers which supports an individual's independence and confidence in learning new skills. The work of this charity is endless. During the pandemic, they set up 'listening ear', which matches individuals together to have a telephone conversation which could be daily or weekly to keep in touch, some of these are now longstanding calls and have supported and tackled loneliness and social isolation through these connections.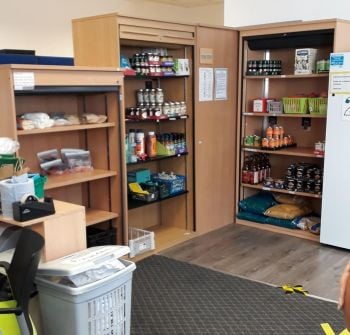 The Community Larder was also set up during the pandemic and individuals sign up to utilise it and can visit as often as required as some people prefer to do it daily rather than weekly there is no rule against how many visits. Support is available if families/people are not managing and can seek advice on this.
The hub for GO is such a warm and welcoming place for people to come and have a chat, coffee and enjoy socially connecting. In a nutshell, collaborative working is top of the agenda for Grampian Opportunities, there are so many resources and groups that support the local and surrounding communities, in their 22 years of operating they have supported many people in many differing ways. Real ambassadors for the Third Sector.
Whilst we were there we met with William Rae, the chairperson for the Learning Disability Group of Aberdeen and Aberdeenshire. This group meet regularly working together to find better ways of doing things for people with disabilities. They will share local information and events as well as new laws which they will discuss and feedback to the relevant people. They support Stay up Late Scotland and Gig Buddies and hope in time they will come to Northeast of Scotland.
Inspire Charity Shop was next, although we didn't have an appointment, we wanted to check out the new shop and perhaps a bit of shopping. What a fantastic space, so welcoming upon arrival, everyone had a smile on their face as they busied about their day. Inspire shop offers opportunities to people with a disability to gain work experience and build confidence within the shop. Whilst there, some people were being shown how to work the till, several times the support worker had to go back and offer support, but she was great in her approach, and everyone continued to smile and be less worried about the task in hand. Another visit is due there to learn more about the valued work they do.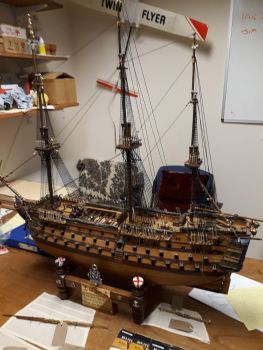 After a wee spot of lunch, in the Dreamy Goat (which received a 10/10 from us all) off we trotted to the Inverurie Men's Shed.
What an amazing space, it was like any man's shed or garage but on a larger scale with some tremendous machinery which enabled the most stunning work. Their ethos of 'Old hands + New Hands + Healthy Minds = Happy Men' was very clear to see throughout the unit and the men we met with. We saw 3 delightful men, all busy doing their own project, but they all stopped to spend time with us to look round their space.
They received funding to support their permanent space and facilities and managed to bring two porta cabins together to provide a lovely spacious social area and a kitchen with full provision of disabled facilities. With a craft room for model making and workshops for woodwork and metalwork and even a smiddy.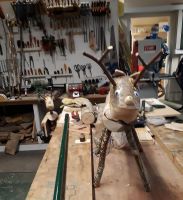 Preparation for the Local Farmers market was underway whilst we were there where they sell their beautiful makes - look out for Rudolph nearer Christmas as they are simply the cutest. They sell individualised pieces of work, where passion, hard work and skill has gone into each item, great wee presents folks and they are always at the Inverurie Farmers market to showcase their wares.
Socialisation is key to the shed where likeminded men can come together to carry out projects individually or as a group. Learning and teaching new skills or perhaps a hobby or a simple game of cards with a cuppa, there is no hard and fast rules, just come and enjoy your time there. Sadly, we didn't have time to go to the allotment but there is always another time to pay a visit there.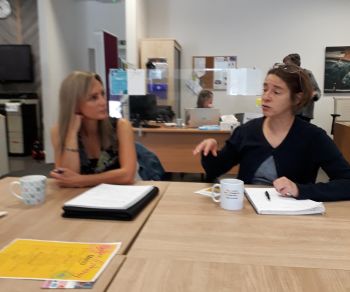 What a great day we had meeting people, whether they be paid staff or volunteers they all shared the same passion of connecting, supporting each other and sharing. Such a privilege to have met such inspiring people. Our third sector is full of passionate, inspiring people who simply want to help and support others in whatever they can through their own aims and values.