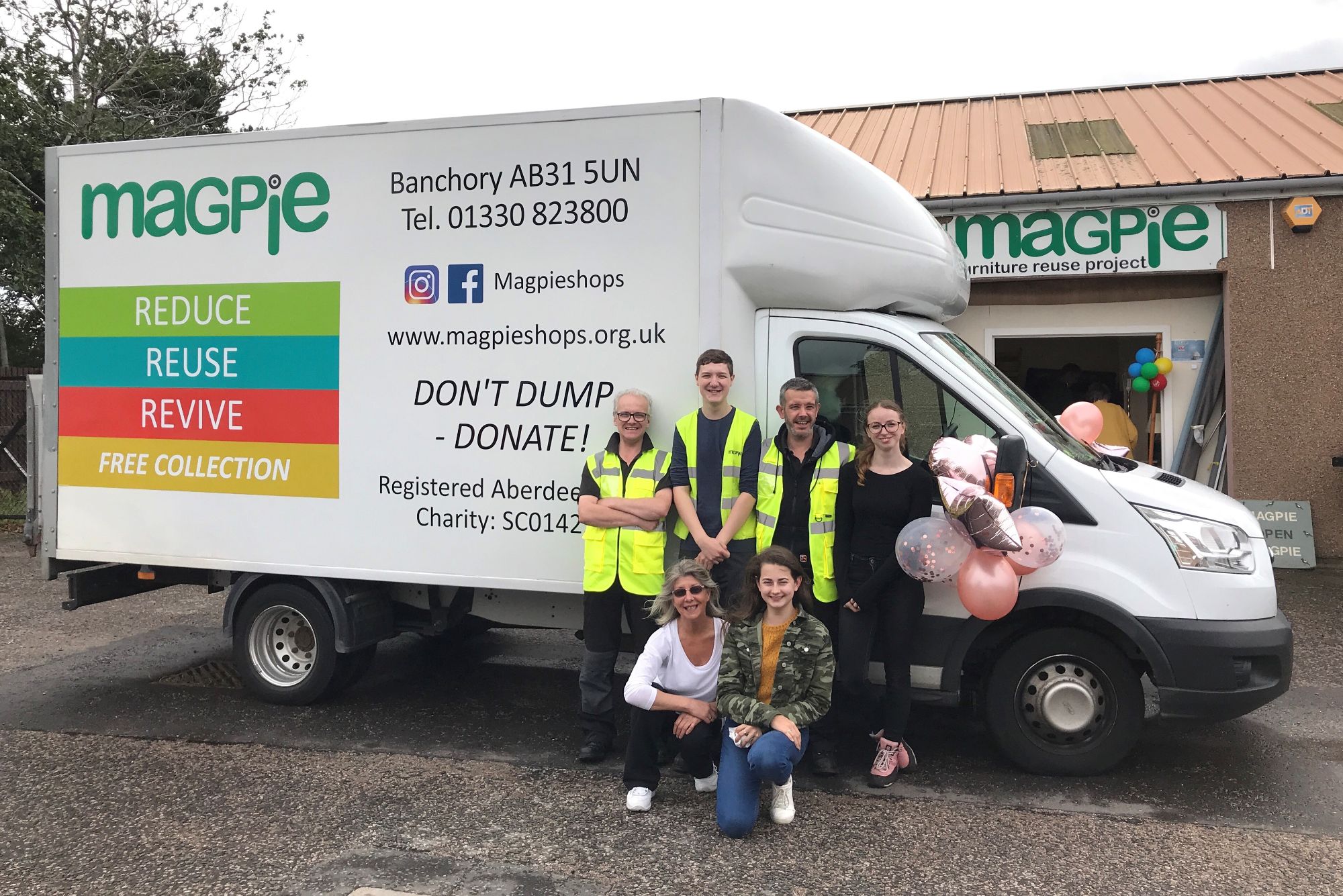 Magpie
Tillybrake Industrial Estate, Banchory
Tel: 01330 823800 Email: magpie@avashire.org.uk
Website: www.magpieshops.org.uk
We run our own social enterprise in Banchory, Aberdeenshire - our Magpie shop. Magpie is a not-for-profit second-hand furniture shop that exists to promote a more sustainable way of living - providing the Aberdeenshire community with the chance to reuse, recycle, upcycle...and find a unique bargain. Magpie accepts great quality donations of furniture and household goods and when you shop at Magpie, you know that the money you spend is going straight back into our Aberdeenshie community. As well as being a shop, Magpie helps those in need by donating furniture and houshold goods through partner agencies and we work with our local foodbank and criminal justice department too. Here are some interesting facts about Magpie:
In 2017-18, 133,500 items were donated, diverted from landfill and reused or recycled. This gives an idea of the huge amount that Magpie has diverted from landfill over the past 20 years. Multiply that number by 20 and imagine the scale of the positive impact Magpie has had on our local environment.
Magpie promotes a more sustainable way of living encouraging people to donate instead of dumping and upcycling instead of buying new.
Magpie has been working in partnership with Aberdeenshire South Foodbank for 5 years and have distributed over 70 emergency food parcels from Tillybrake in that time. We have also delivered over 400 food parcels to satellite areas including Stonehaven and Inverbervie on behalf of the foodbank. During July 2019 we delivered 24 food parcels in Aberdeenshire.
Magpie has been involved with Criminal Justice since 2010. Since then we have provided 26,598 hours of Community payback time which is the highest amount for any charity in Aberdeenshire.
In 2017-18 Magpie gifted 547 items to those in need through the Social Work Department – directly providing for those on our doorstep in Aberdeenshire that need an extra bit of help.
Our excellent team of volunteers regularly includes Duke of Edinburgh and New Scot volunteers, so we often have a diverse team of all ages and backgrounds working at Magpie.
Our volunteer and staff team go above and beyond to make sure our charity runs smoothly and people get what they need – we couldn't exist without them and owe them a huge dept of gratitude.
Finally, we have an excellent range of pre-loved furniture and household goods - promoting reuse and more sustainable living. Let's not forget the amazing and unique bargains that are to be found at Magpie!