RNIB Eye Clinic Support Services in Aberdeenshire
Posted on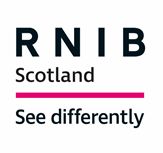 RNIB's Eye Clinic Support Officer (ECLO) provides a vital service to people living with sight loss in the Aberdeenshire area by providing emotional and practical support for people with sight loss, their families, carers and also providing support and advice to professionals.
We help people with sight loss to maintain their independence and access a wide range of services. Our ECLO, Rhona Lewsey can provide advice and support on a wide variety of topics including information about sight conditions, managing a sight condition, becoming sight or severely sight impaired, access to both national and local services, emotional support and practical support across the Aberdeenshire area.
If you would like to find out more about our ECLO services, please find additional information at the following link: https://www.rnib.org.uk/sightlosssupportscotland
If you would like to contact for advice, make a referral or further information about the ECLO service in Aberdeenshire please Telephone: 0771 330 6232, E: Rhona.lewsey@rnib.org.uk SMS: 0771 330 6232 or Email: visualimpairment@aberdeenshire.gov.uk.