Flying the flag for inspirational women in Banff
Posted on
By Fiona Ingleby, former AVA Development Officer
Whilst shopping in our local Co-op I saw posters plastered all over the windows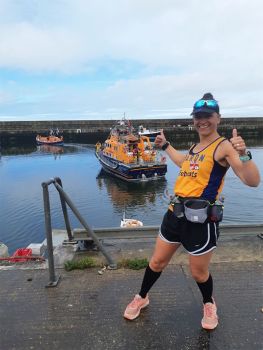 about a member of staff who was attempting to run from Lossiemouth to Banff in order to raise money for the RNLI… "Lossie to Banff! What on earth? How?" were my first thoughts as a wannabe runner. I had to meet this person to see what drives one individual to put herself through an endurance challenge like this….
As soon as I met Caron I instantly recognised her warm smiley face from the Co-op Store in Banff but I'd argue she would be more recognisable locally as the lass that's "never aff the heed o the road!"
I sat down with Caron and she told me about this challenge. It wasn't just running from Lossiemouth to Banff, which is an unbelievable goal to set yourself, but she was running along the sandy beaches and visiting each Co-op store along the way. This was no easy task considering Fochaber's Co-op store is 4 miles off the beach track and the Cullen store is at the top end of Cullen with the challenge finishing at Banff Bridge Co-op. Caron told me that the main challenges on the day were more so with the hot weather and the compressed wet sand but what helped and encouraged her along the way were her fellow runners Kimberly Milne, Bob Barron, her brother Colin Jeffrey and cyclist Vicky Priest - not forgetting her fuel of Jelly Babies, cocktail sausages, Babybels and a bottle of Coke (food which Caron admitted she never eats except on these mammoth runs).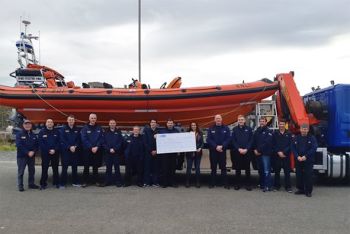 Caron and her team successfully raised an impressive £1750 by running a whopping 47 miles from Lossiemouth to Banff and the total continues to rise…..
I was keen to find out how Caron got started with running and (apart from Jelly Babies) what keeps her going?
Caron, now 45, told me how some years ago she struggled with severe postnatal depression. It was a dark time for Caron and her family and after a visit to her family doctor who suggested some form of exercise, Caron realised that she would have to do something. Exercise was something that Caron had never really undertaken seriously before but during a conversation with her brother David - a former soldier in the Royal Engineers - she mentioned that she might try running. He responded with laughter, but that was all the motivation she needed!
As one of 5 siblings myself, I know this would be enough to get me started and to prove them wrong so that's what Caron did and goodness, she hasn't stopped running since - setting herself new and almost unbelievable challenges.
Caron believes strongly in the linked benefits between physical exercise and mental health, whether it be a lovely walk along the beach or taking on personal challenges and setting yourself new goals.
Caron has already completed the London Marathon which raised money for the RNLI and she ran the Aberdeen half marathon in August. In 2016, along with her brother Colin, Caron ran the Great Glen Ultra - a mere 72 miles! And many, many more phenomenal runs…
What's next for Caron? Only the Glenmore 24! Yip, you've guessed it, a 24-hour run!
Caron is a huge inspiration to all of us - her drive, her focus, her ambition, her understanding of others and her undeniable support to the RNLI (Caron's Dad was in the Merchant Navy). Well Done Caron!