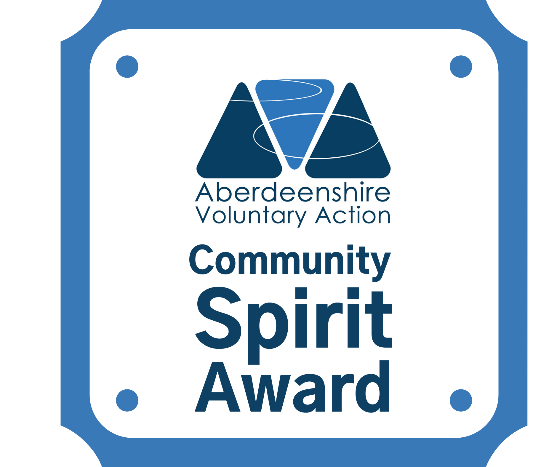 We realised early on during lockdown that there were exceptional things happening in our communities to help the more vulnerable in our villages and towns across Aberdeenshire, and following the launch of the AVA Community Spirit Awards, we have been overwhelmed by the response. You have been nominating in your hundreds and many of the people in your community who have gone out of their way to help, support and put a smile on people's faces during the pandemic have been recognised.

Many award recipients have been nominated multiple times showing the impact they have had on their community and several of our nominations are very young showing a sense of community spirit from a young age.

We want to celebrate our belief that community spirit is stronger than ever in Aberdeenshire and would love to share images of award winners and their certificates which will be winging their way to winners over the next week either electronically or via Royal Mail. If you are a winner and would be willing to be included in this, please email a photo with you and your certificate, along with your name to communityspirit@avashire.org.uk.

Everyone at AVA would like to add our thanks to those who nominated people, but more importantly we'd like to add our recognition to the award winners as well as those who have not been nominated, but also did some amazingly selfless things to support other people at a time of need… A flavour of these acts can be found in some of the quotes below that we received with the nominations.

A full list of names and organisations who are receiving awards can be found in our August 2020 newsletter by clicking here.
Thank you from Dan and the whole AVA Team.
"We are co-ordinating volunteers who are willing to help people who are self isolating and/or vulnerable with essential shopping, prescription pick up/delivery, dog walking, befriending and other essential services. We now have a network of over 90 volunteers and we have received over 780 requests to date and we have been able to fulfill 100% of these requests. The fact that we have not received more requests, is testament to how our community has rallied to support their neighbours, friends and family. As we move forward and reassemble our new normal there will be members of our community who are still shielding. Our aim is to continue to support our community while they need us with food bank deliveries, grocery shopping and pharmacy collection. This award is for all our volunteers, staff and board members who stepped up to support their community and they deserve a big thank you for all their hard work and selflessness throughout this pandemic."
"Having the food box delivered to their door was for some people a life line for those people who were shielding or unable to get to the supermarkets."
"Our Community Food Bank was opened in the church hall the week before lockdown and has been the centre from which food parcels have gone out to families and elderly people. We have a team of willing drivers to do this. Folk could also drop in for essential items which they couldn't find on the shop shelves. We also distribute ready meals every week to the elderly and vulnerable."
"I am very proud of his efforts and feel he is deserving of recognition for his endeavours within our local community. He has worked hard work doing cash and carry runs, organising funding, deliveries of food stuffs, toiletries to hospital residents, obtaining donations via local retailers, participation in the weekly telephone calls to the resilience group - the list goes on and on. …..He has since went on to build garden shelters in his spare time so family's had an outdoor meeting space when the government gave the green light for family's to start to meet up outdoors."
"So many people have come forward in so many ways to support others in the village and surrounding area. Everyone has different abilities, time and resources to help but each and every one has been so appreciated, whether it be grocery, pharmacy or newspaper deliveries, dog walking , gardening, calling each day for a chat, free giving website and so much more."
"When lockdown arrived the Project Leader did some lateral thinking. The premises remained open, the staff were retained, not furloughed, and almost 30 volunteers came forward to help out in what has become a community kitchen and Foodbank. Several applications for grants were successful and for the past 4 months the facility has been a drop-in hub and provided a landline call centre six days per week."
As the crisis developed the facility became the base for a Fareshare Foodbank in association with Tesco, Co-op and CFine. It has worked with local schools, Homestart, the GP surgery, local older people housing and organisations to distribute food parcels. 2000 meals have been prepared and distributed for free to those in need by the team of volunteers who also provide a shopping delivery and collection service."