Fundraising Masterclass - Wednesday 22nd March 2017, Ellon
AVA wants to thank members who attended the Fundraising Masterclass on 22nd March in Ellon. The speakers and workshops provided a wealth of knowledge and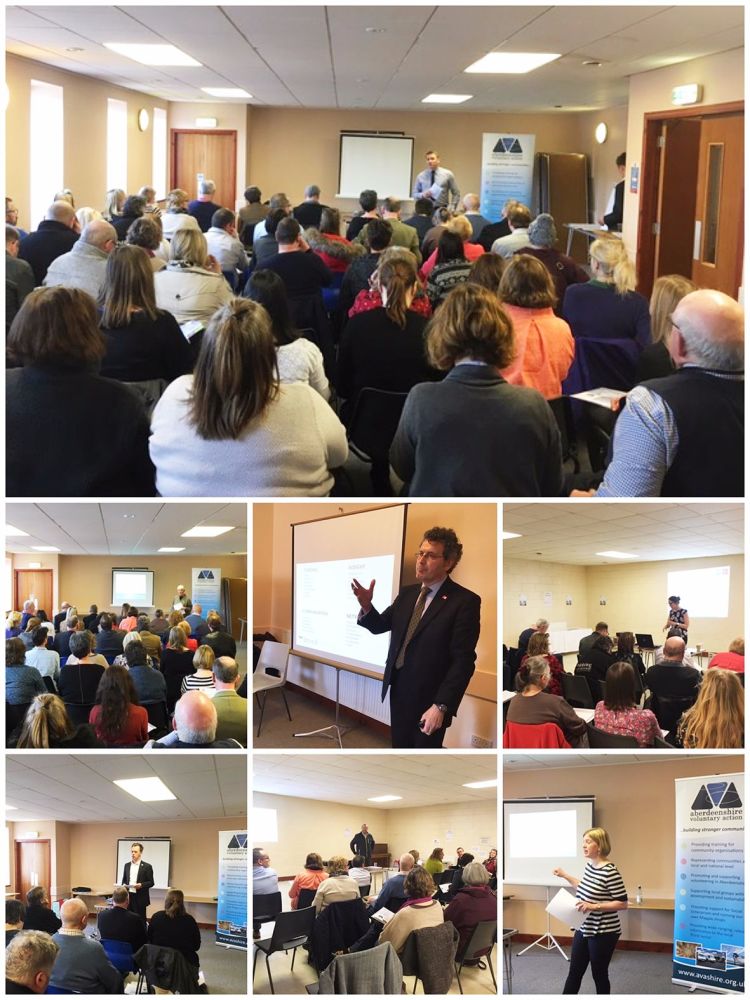 experience and we hope that delegates went away feeling inspired with ideas and information on good fundraising for their organisations. Particular thanks to those who ran the workshops and our keynote speaker, Dr. Alison Elliot from the Independent Fundraising Standards and Adjudication Panel for Scotland who outlined the structures in place that keep fundraising standards high across Scotland. See below for a run down of the workshops where some of the presentations can be downloaded.


Speakers and Workshop leaders:
Alasdair Cunningham - European Funding – LEADER and ESF
Alasdair Cunningham is European Programmes Co-ordinator for Aberdeenshire Council. He is the co-ordinator for the South Aberdeenshire Local Action Group (SOLAG) and has an interest in the Scottish Rural parliament.
Dr. Alison Elliot - Keynote Speaker
Dr Alison Elliot OBE is the Associate Director of the Centre for Theology and Public Issues at the University of Edinburgh. In 2004 she became the first woman ever to be elected Moderator of the General Assembly of the Church of Scotland. She is former Convenor of SCVO, and the current and first Chair of the Independent Fundraising Standards and Adjudication Panel for Scotland. Download Dr. Elliot's presentation here.
Andrew Reid - Strategy - Making a Good Fundraising Plan
Andrew's background is in journalism and Public Relations. His first role within the Third Sector was with Aberdeen-based children's charity, Befriend a Child, where he was Community Fundraiser for over three years from 2011-2014. For the past three years he has held the same role with local learning disability charity, Inspire Partnership Through Life.
Dawn Brown - Why You Need A Strategy
Dawn is the Development Worker with Garioch Partnership and former volunteer with Grampian Opportunities. Dawn is a local lass, and has worked in the hospitality industry, been Chairperson of the Great Northern Partnership and on the boards of The Civic Forum (community engagement for the City Alliance), The Aberdeen City Alliance (community planning partnership) and The Joint Alcohol and Drugs Action Team. Download Dawn's presentation here.
Eleanor Morris - A Funder's perspective - What We Are Really Looking For
Eleanor is the Development Officer at Udny Community Trust. She is on the board of the North Aberdeenshire Local Action Group (LAG) and is responsible for distributing over £3m grant funding in North Aberdeenshire. She was formerly a Development Officer at SCVO. Download Eleanor's presentation here.
Fraser Hudghton - The Code of Fundraising Practice
Fraser is responsible for the Institute of Fundraising's strategic direction in Scotland. On a daily basis, he works across the major issues relating to best working practice for charities, engaging widely on the complexities which surround the differing legal and political jurisdictions for charities between the devolved nations of the UK.
Gayle Johnston - A Fundraiser's Perspective - Learning the Craft of Fundraising
Gayle has worked with CLAN, Transition Extreme and CLIC Sargent. In 2012 she undertook a major fundraising campaign for a capital project for Simeon Care for the Elderly. She is now Fundraising Manager for the Camphill Communities. Download Gayle's presentation here.
Sarah Secombes - Community Fundraising – Making It Work For You
Sarah has been a fundraiser with Children's Hospice Association Scotland since 2009. She has help the post of Regional Fundraiser, before taking up her current post of Head of Community Fundraising. She is a graduate of St Andrew's University, and holds the Institute of Fundraising Diploma. Download Sarah's presentation here.
Scarlett Butler - European Funding – LEADER and ESF
Scarlett is a former Parliamentary Assistant at the European parliament and now works as European Programmes Co-ordinator for Aberdeenshire Council. Her specialism is the European Social Fund. Well versed in the structure of the European parliament, she is also a former intern for the national Assembly for Wales.
Tim Wright - Crowd Funding - Four Steps to Prepare Your Pitch
Tim Wright is Director and co-founder of twintangibles, a Scottish based management consultancy that helps organisations create value through accessing the crowd economy. A leading thinker and practitioner on crowdfunding, Tim provides expert insight to a wide range of organisations and his clients include the OECD, European Commission, the Scottish Government, Scottish Enterprise and NHS24. Download Tim's presentation here.