Aberdeenshire Third Sector Week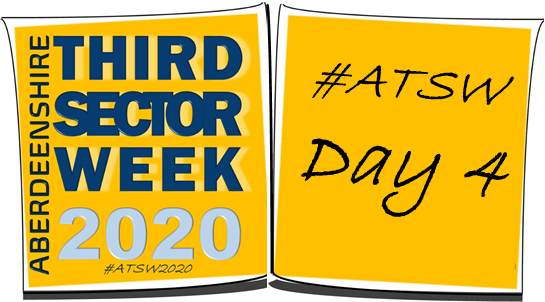 The Value of Environmental Facilities and Preserving Heritage
Russell Community Group have been busy transforming an area of derelict wasteland in the centre of the village of Boddam into an attractive garden and community space for the entire village population.
THis is a short piece to camera talking about the development of this community space.
Tarland Development Group (TDG) works to advance a broad range of community development, including the arts, culture, heritage, environmental enhancement and protection and recreational activities.
This video shows the various projects of TDG - keep watching all the way to the end to see the otters captured on video by the Dee Catchment Partnership, currently working with Tarland Development Group.
Aden Allotments are situated in Aden Country Park in Mintlaw, Aberdeenshire. The allotments are run by the plotholders themselves under the name of Aden Community Allotment Association SCIO (ACAA)
This website features two films. One is about thier new disabled friendly toilets the other is a series of short films put together over the summer for their virtual open day.
Greener Kemnay consistes of a group of Kemnay residents aiming to promote a green agenda in Kemnay through supporting community gardening and composting, and improving the local path network around the village.
This short film demonstrates the value of their work within their community.
Based in the old Mart, and centred around the original sale ring, the Alford Heritage Museum preserves and shares the rural heritage of North East Scotland. Enjoy the virtual tour here!
Birse Community Trust manages land and buildings on behalf of the communiity, including the souters shop in Ballogie. A time capsule discovered untouched since it closed in 1941, The Soutars Shop in Ballogie is the only surviving one of its kind in rural Scotland. Come and see inside!
Today we hear from two communities in Aberdeenshire who demonstrate how local organisations stepped up in order to serve their residents during the Covid-19 pandemic.
In the first video, The Lord Lieutenant of Banffshire introduces Brighter Horizons - a Banffshire based not for profit organisation working within the towns of Banff and Macduff and the outlying areas.
2020 promised to be an exciting year for tourism in the Mearns. Unfortunately, as events unfolded in March plans were put on hold. Local Social Enterprise Our Mearns Tourism Association produces a number of films promoting Arts, Culture and Heritage around every corner. The second film one is of hope that the Mearns will once again be open for visitors....
The Nuts & Bolts of a Funding Application
The fourth of five short presentations developed to help TSOs to prepare a strong case for support and make better funding applications.