Aberdeenshire Third Sector Week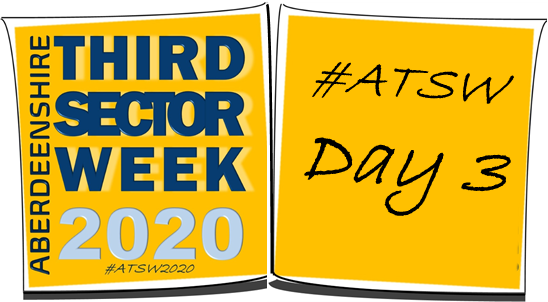 The Value of Health & Wellbeing Support and Men's Sheds
Pillar Kincardine is a small voluntary organisation based in Stonehaven, Scotland, supporting people in and around Kincardine and the Mearns who are coping with serious emotional, social or mental health difficulties. Due to COVID19 their service has had to adapt and is a little different from the time this film was made but they continue to provide essential support at a time their service is #nevermoreneeded
This is a great video by CountrymenUK which really explains the service that Buchan Community Farm provide and the difference it makes to their users.
This presentation gives a detailed account of the journey of Stonehaven & District Men's Shed, how they are dealing with the pandemic and the socio-economic value of Men's Sheds.
This year, Stonehaven & District Men's Shed were awarded Age Scotland's Men's Shed of The Year Award! Read all about it here.
Aberchirder Men's Shed aim to bring men together from the area and village. They are trying to combat isolation and loneliness in the community and give men of all ages a place to base their interests.
In this video we find out more about the Aberchirder Men's Shed and their response to Covid-19.
Inverurie & District Men's Shed is available for use by men who simply wish to socialise, or use the workshop to carry out projects of their own, or join in with other members' projects or learn new skills.
Join them as they take you through some of their activities and projects...
Garioch Community Kitchen promotes and raises awareness of healthy eating messages through practical hands-on cookery sessions.
Find out more about their facility and what they do in this short film.
CLAN Cancer Support is a well-established, local charity providing emotional and practical support to people affected by cancer, their family, carers and friends.
Visit their Online Services YouTube Channel and learn techniques demonstrated by therapists you can do at home.
Today we hear from three communities who demonstrate how local organisations stepped up in order to serve their residents during the Covid-19 pandemic.
In the fiirst film, the Lord Lieutenant of Banffshire introduces our neighbours in Moray and the Keith COVID19 Group.
The second film is a short presentation highlighting Care in Tarves Community an initiative by Tarves Kirk liaising with Tarves School and how they have been helping the local community through this difficult time.

The Bellman is a local online newspaper which recently earned charitable status. In this article they tell of a great initiative in Kincardine and Mearns inspired by the work of Banffshire Partnership Ltd in the North of Aberdeenshire.
Grow you Group: Evidencing Need
The Third of Five short presentations developed to help TSOs to prepare a strong case for support and make better funding applications.